Annual Spring Machinery, Equipment & Tool Consignment Auction – Sat, May 5th, 2018
Annual Spring Machinery, Equipment & Tool Consignment Auction
Sat, May 5th at 9:00 A.M Sharp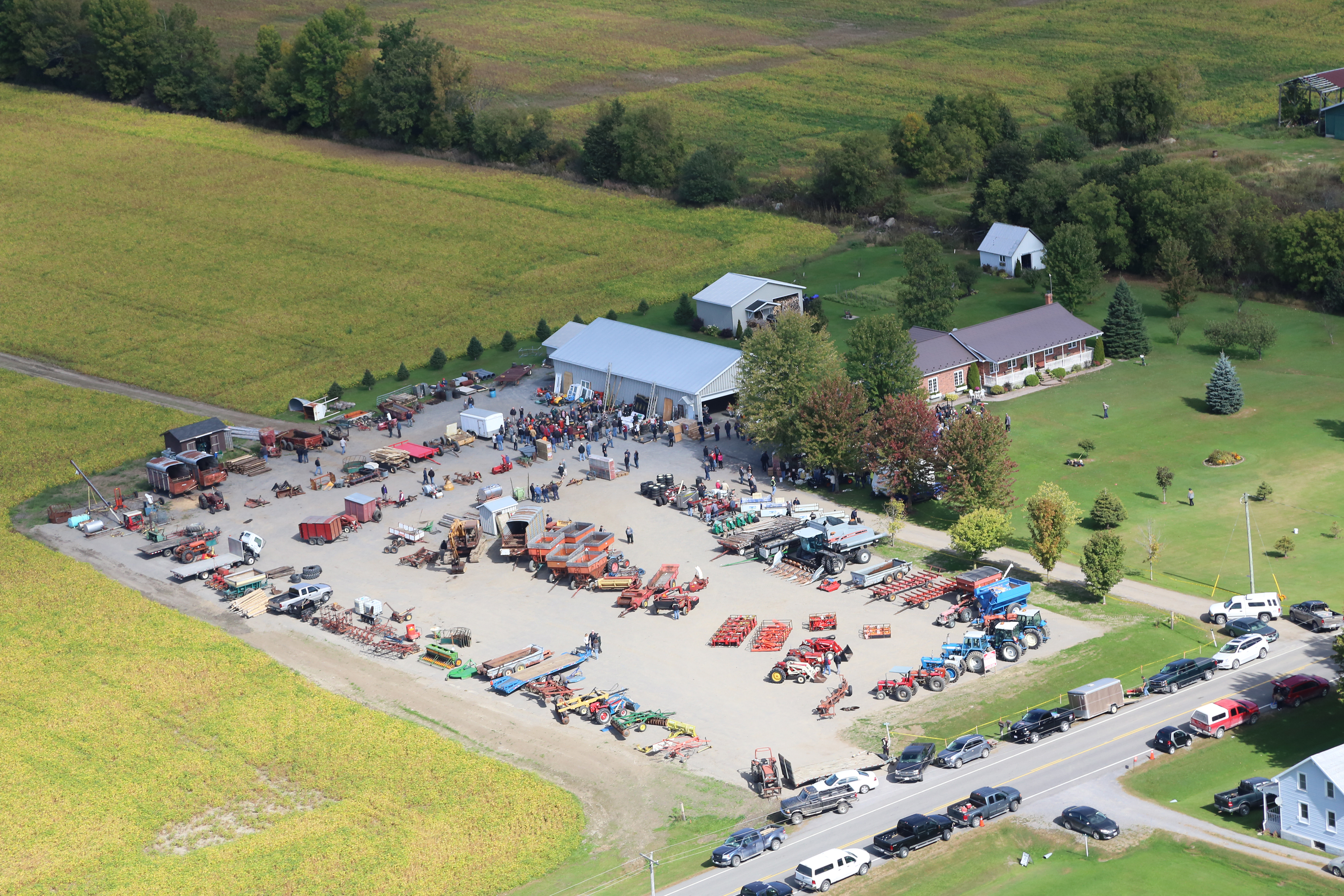 To Be Held At Our Facility 15093 Cty Rd 18, East Of Osnabruck Centre- From Hwy 401 Take Ingleside Exit #770 Dickinson Dr., Travel North Approx 1 ½ Kms To Osnabruck Centre, Turn East Onto Cty Rd 18 Travel ½ Km. Watch For Signs!
TRACTORS AND COMBINE: Ford 5640 4wd with cab and frt lrd, only 3800 hrs(nice straight farm fresh tractor), White 2-105 4wd with cab only 3800 hrs(straight farm fresh tractor), Zetor 3320 2 wd with cab and frt end ldr,(only 700 hrs, estate tractor), IH 674 2wd with cab and ldr,  MF 165 2wd with front end ldr, IH Farmall 140 with market garden attachments(runs extremely nice), IH 234 Hyd compact( only 976hrs, nice), JD 6600 combine with 4 row corn head,
RECREATIONAL & VEHICLES: 1979 Triumph Spitfire, 3 four wheelers, 2 Kayaks(like new), horse drawn meadow brook cart complete with brakes for med to heavy draft horse built by Amish brand new never used(consigner paid in excess of $3500), 3 horse drawn sleighs.
USED MACHINERY TO INCL: Salford 4 furrow semi mount high clearance plow(nice), 10 ft off set disc, bush hog 16 ft disc, IH 11.5 ft disc, various packers and rollers,  white 6600 8 row corn planter with liquid fert(all new units), JD 7000 6 row corn planter with dry fert and cross auger, JD 8300 grain drill with DD,  PW, and GS, Glenco 16 ft cultivator, Landoll 11 shank soil saver, Kverneland disc bine, JD 1219 Haybine, NH 488 haybine, Vicon H1350 folding rake, Khun 3pth tedder, NH 256 side delivery rake, 2 steel top hay wagons, crop sprayers, NH 790 tandem manure spreader, 2 dolly style feeder wagons, 4 gravity boxes, NI 2 row corn picker, 2 bush hog rotary cutters, 2 6 ft finishing mowers(like new), 3 3pth snow blowers, 3 pth scraper blades, NI closed in elevator, 2 bale clams, wic 52 gas pwr feed cart, Rissler gas pwr mixer cart, Val Metal elec straw chopper, gas pwr straw chopper, set of 20.8-38 T-rail snap on duals
BRAND NEW MACHINERY & EQUIP:  3 pth back hoe attachment, 2-3 pth wood chippers, 94 in skid steer front mount snow blade, 2 skid steer front mount trenchers, 2 sets of pallet forks.
TRAILERS TO INCL: set of 1998 Timpte pure aluminum Super B- B train hopper grain trailers, 42 ft enclosed trailer/toy hauler with kitchen, bedroom and bathroom with shower, galvanized utility trailer(new), 6 ft by 10 ft Advantage utility trailer with ramp gate, 20 ft tandem dual wheel float with hyd. winch
NEW TARP STRUCTURES, TENTS, & GREENHOUSES: 30ft by 65ft by 15ft Peak ceiling double door storage tarp structures, 30ft by 40ft by 15ft Peak ceiling double door storage tarp structures, 2-20ft by 30ft by 12ft high tarp structures, 2 10ft by 20ft commercial pop-up tents, 20 ft by 20 ft Pagoda party tent with side walls windows and zip doors, 2 8ft by 10ft twin wall green house
NEW & USED SHOP EQUIP & TOOLS: new 75 ton air shop presses, new 8800lb cap hyd hoists, 6000 lb portable car scissor lift, 2 10 ft 20 drawer metal work benches, 80 in hd multi drawer tool cabinet, 2 HD tire changer, HD wheel balancer, 2 10 ton porta power kits, 2 new 12 ton hyd pipe benders, Karcher diesel/elect high pressure washer, Predator welder/generator, Hilti TE 1000 air breaker, Great assortment of wood working tools including planners, jointers, table saws and more,
LAWN AND GARDEN EQUIPMENT: Troy Built XP 50 in Mustang zero turn riding mower, tractor style riding mowers to include Cub Cadet, Husqverna, Columbia and more, Bolen 1225 garden tractor with rotor tiller, snow blower and front mount blade,  roto tillers, snow blowers including one year old cub cadet, one year old Murray and more, Generators, chain saws, gas water pumps.
MISC ITEMS TO INCL: new 21in by 18in gas powered plate packer, gas powered tamping rammer, new in box,  qty of good used tin, 18 in H&H bucket(case 580 series), set of 19.5 22.5 used backhoe tires, set of 12.5 105 backhoe fronts on rims, 12 new 11L15 implement tires on 6 hole rims, 5 sets of 20 ft bi-parting wrought iron driveway gates, several sections of scaffolding, cement mixer, trailer style PTO generator( like new), fencing supplies including post, wire and gates, various bale and grain feeders, qty of rubber cow mats, To be sold by photo 2 grain bins located at Lunenburg, to be removed by purchaser no later than Sept 1, 2018.
Note: This is a very partial listing of what is shaping up to be a large and interesting auction with many consignments arriving daily. Accepting consignments until Friday, May 4th at 12:00 noon. Be sure to attend and see our newly expanded facility. We have expanded in hopes of serving both our buyers and sellers more efficiently. Again, we will be running 2 rings throughout the day. Regardless of where we are, we will be selling machinery in one ring at 12:30 sharp with tractors no later than 2 pm.
To consign call
Peter or Helen Ross
Auction Conducted By
Peter Ross Auction Services Ltd.
Ingleside, On. (613) 537-8862
Canteen and washroom on site!
Terms: Cash or Good Cheque with Proper I.D